Design & Customization
Custom Design Templates
The best professionals in the design business have crafted the ultimate look for your app. You will be able to choose between two available templates, either light or dark. Both templates will offer you endless color options to enjoy.
Multi-Language Support
Although the control panel will be displayed in English, The app completely translated to English, German, French, Italian, Spanish, Portugese, Netherlands, Arabic, Greek, Russian and Hebrew. The listener will see the lanaguge as his device default lanaguge and by his decision he will be able to change it through settings.
Shoutcast/Icecast Support MP3/CDN/Streaming Services
The in-app player is designed to support Icecast and Shoutcast radio servers and enable a smooth transfer between tracks and your overall radio program. During every track, the name and image of the artist, as well as the name of the current song, will be displayed near the player.
Multi-Channels
This option can allow your app to show several radios at the same time, with an interactive and easy slide between them. Each channel can get his own image/design.
User Engaging & Social Media
Push Notifications
This is a specialized feature based on an advanced push notifications system that will allow you to send messages directly to your listeners' devices, such as updates about shows and the latest news; this is a great solution for those radio stations interested in being in constant contact with their audience.
Social Chat
You have the option of adding chat to your radio app at any time for the purpose of making your radio station more socially active and bringing more active listeners in the loop. The login to the chat is through Facebook or Twitter so near each message the user avatar will appear. our advanced panel settings will enable you to manage the chat option as you see fit.
Youtube
Share with your listeners your favorite youtube videos. Through our control panel you can see how many views each video receveid from your radio application.
Contact
This option will allow all your listeners to contact the radio in real time via SMS, e-mail, and phone call.
Social
Your listeners will absolutely love the possibility of being connected to your radio station via social networks such as Twitter, Facebook and many others, where they can "like" your station and share their favorite songs.
SoundCloud
This option allow you to add your SoundCloud Tracks to your application and follow the number of views through the control panel
Polls
This option is extremly important for learning your listeners preferences. The poll result appear after user voting.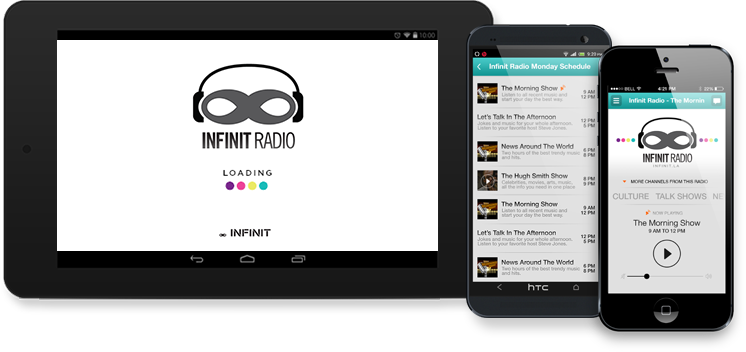 Tools & Radio Updates
Recent Songs
At the core of every popular radio is good music; this feature will display the last song that was played, complete with an image and informational text about the artist. Additionally, an Amazon or iTunes link to order the song will also be available.
Schedule
Keeping your listeners in the know about important every day shows is the trademark of any good radio station, and this feature will do just that for you.
Podcasts
In this section your listeners will be able to listen to mp3 files (Podcasts) that wasw uploaded by you through control panel. In addiition through the cotrnol panel you would be able to see all the listening statisitcs for each podcast.
Favourite Songs
Near each song will appear a grey heart, when the listener click on it, the heart will be come red and the song immediately added to favourite songs list of this listner. The listner can through the app see all his favourite songs and you as radio admin/dj can see what songs the listeners liked the most.
Live Studio
Show your listeners what happens in radio station through live video streaming from the studio.
Gallery
Display galleries and images of your studio or what ever you decide, the images appear in high quality with smooth scrolling.
News
Informing your audience about important news updates you might normally have is done with this feature, You can deliver real-time updates to your listeners by sharing YouTube videos, images or links.
Important Links
Keeping interesting content is always a good thing for an app, and adding links to Facebook pages and websites enhance content diversity. Any links you add through this feature will open in-app, leaving the music and program of your station uninterrupted for the listeners.
Song Request
We give you the ability to get feedback from the listener about songs or artists the listener would like to listen. Through the control panel you will get all song requests with the listener name and details.
QR-Code
Each client receive QR-Code image that can be shared in radio station website. The page will recognize the type of device, and if the app was already installed it will open it. but if the app still wasn't installed, it will open the app store or play store for download.
RSS Feeds
Publish content from third side parties like news, weather with our easy to use RSS feeds option.
Control Panel & Statistics
Advanced Control Panel
This feature represents the very brain of your app; with it, you will be able to benefit from countless highly advanced features, including precise statistics and an easy access to updating your app. Our professional developers saw to it that you almost have no need to contact us if you master the Advanced Control Panel; it will enable you to put every thought into action through a detailed, yet simple control menu.
Language and Geographical Statistics
Knowing the location of your listener base is vital for the survival and growth of every radio station, which is precisely what this part of the internal statistics allows you to learn. This part of the internal stats, called the Geo-stats, displays the number of visits to your station in hours and days.
App Download Statistics
The internal statistics of our control panel will allow you to keep track of how many times your app has been downloaded, sorted by both dates and devices.
Google Analytics
In addition to following our own, in-house statistics, you׳ll also be able to keep track of the interactive Google statistics, this is done by going to the aforementioned Control Panel and implementing the Google Analytics code directly from there.
Rate Application
This feature allow your listeners to rank your application on Play-Store/App-Store. In addition the app will remind the listener to rank the app.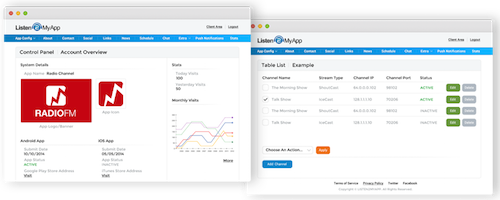 Updates & Support
Android & IOS Versions
Our apps are built from scratch in Java and Objective C; our smooth-running apps are accessible on both new and old models of smartphones, and the latest mobile technologies are supported by our services.
The Newest Versions
Maintaining a high standard of keeping every single app as efficient and new as it can be is not an easy task, but is one task that our developers gladly do; our apps are always first on the market.
Custom Development
Tailoring the app to fit your every need is something that our developers are more than happy to do, regardless of whether it entails adding custom features or integrating ads; the needs of you and your radio station always come first for us and we take great pride in creating unique and never before seen radio apps for our clients.
Premium Fast Support
Constantly Available Support - we provide 24/7 e-mail support.